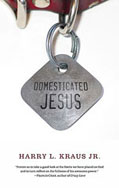 Domesticated Jesus
Buy this book at Amazon.com / BarnesandNoble.com / Christianbook.com / Your Local Bookstore
It's incredible, but the modern church has largely succeeded in domesticating Jesus. We have swapped a God-glorifying gospel for a lesser gospel where "I" is the central character.
This honest, fresh, and involving journey of self-discovery will help readers understand how our compromises have led to a down-grading of Jesus role in our lives.
Do you want Jesus to be more alive to you than ever before? Don't domesticate Him, set Him free to live in the center of your life.
Watch the Trailer...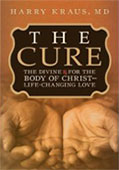 The Cure: The Divine Rx for the Body of Christ--Life-Changing Love


Buy this book at: Amazon.com / BarnesandNoble.com / IndieBound.org /
Christianbook.com / Your Local Bookstore
One of the Bible's chief metaphors for the church is "the body of Christ," as described by Paul in 1 Corinthians 12. In The Cure, practicing surgeon Harry Kraus uses his medical background to bring this metaphor to life. He explains how an understanding of physiology—the wonderful way God has put together the physical body in function and form—can show us how love can be realized in the life of the believer and the church, the body of Christ.
When asked what can be done to inherit eternal life, Jesus' answer can be summed up in a single word: love. Love stands at the heart of the gospel, the core of God's motivation and plan to rescue his bride. Through this careful dissection of Paul's metaphor, readers will come to an understanding about Christ's command (love!) and how to fulfill it.
Reader Reviews:
"Harry Kraus has dedicated his life to restoring human bodies to health. This book does the same for the church, the body of Christ."--Max Lucado, best-selling author
"Harry Kraus understands love—biblical, selfless, servant love—the way few do. Get lost in the lines of The Cure and remember once more the reason you're here—to love and love well."--Karen Kingsbury, author of Ever After and Between Sundays
"Harry Kraus has already proved his skill as a writer after more than two decades' worth of novels. In my favorites, I'm amazed at the intertwining subplots and the just plain good stories that hold me to the last page with imagination, suspense, romance, and gospel mixed together in well-proportioned doses. In his first non-fiction books, Breathing Grace and now The Cure, Kraus's expert storytelling provides the setting for larger direct doses of biblical truth than what's effective in a novel. In his life as a physician, Kraus looks at normal events and sees parallels with God and our need for him. In The Cure, facts about a healthy human body become parables of a healthy body of Christ. Realities as diverse as DNA and a disastrous first date point us personally toward God and the immensity of his love and how much we need that love. I expect to give away many copies of The Cure." --Noël Piper, author and speaker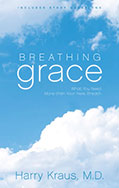 Breathing Grace: What You Need More Than Your Next Breath


Buy this book at: Amazon.com / BarnesandNoble.com / IndieBound.org /
Christianbook.com / Your Local Bookstore

Each week thousands of Christians will sing "Amazing Grace" at church, paying lip service to one of the most phenomenal aspects of Christianity, yet walking away untouched by its magnitude. They pay mental assent to the concept, but their hearts are untouched.
In the author's words, "God's grace is amazing, abundant, free, and available. So why is spiritual famine an epidemic both inside and outside the church? Because although we've come to Christ by recognizing grace, few of us have carried it along as essential equipment on the Christian path. . . . God never promised a pain-free life, but he did promise that his grace is all we need in our search for peace and fulfillment."
Breathing Grace is a unique look at a topic that stands at the very core of the Christian faith. Dr. Harry Kraus, best-selling author and practicing surgeon, reveals the gospel of grace through a series of medical metaphors, predominantly the physiology of our need for and utilization of oxygen. The clinical flavor of the book brings to life a subject that many Christians have failed to grasp and incorporate into their daily lives, illustrating our need, God's provision, and the moment-by-moment inflow and exhalation of grace to a starving world.
Breathing Grace includes study questions for group and individual use.
Reader Reviews:
"My friend Harry Kraus is an accomplished surgeon and novelist. Now in Breathing Grace, he proves himself an insightful spiritual guide, using medical analogies to illustrate great truths. Harry's heart for God and for people spills over on each page."--Randy Alcorn Author of Heaven, Safely Home, and Deception
"There is no shortage of books on divine grace, but this one is different. Kraus has resorted to a medical metaphor, which he uses especially well in an era when the public is obsessed with health and medicine. But the real lack is spiritual maintenance, which in this presentation is laid out in an interesting and exciting fashion. Thrilling case histories, both medical and spiritual, abound. The human body can go three weeks without food, three days without water, three minutes without oxygen, but spiritual need requires minute by minute dosing, and grace is the remedy. This is not merely a 'how to' book but conveys a simple and satisfying way of life."--C. Everett Koop M.D., former Surgeon General of the United States