All I'll Ever Need- Claire McCall Series Book 3


Buy this book at: Amazon.com / BarnesandNoble.com / IndieBound.org /
Christianbook.com / Your Local Bookstore
The grueling past months finally seem about to blossom into a happy future together for Dr. Claire McCall and her fiancé, John Cerelli. But their wedding plans are interrupted by circumstances so devastating they threaten everything Claire holds dear: her medical career, her relationship with John, and quite possibly her freedom.
Working through the turmoil caused by a near rape, Claire has sought a counselor to help her untangle her emotions. What the counselor uncovers is shattering, but things are about to get worse. The man who assaulted her escapes from jail, and then, to top it off, Claire is accused of euthanizing a terminally ill patient.
But the next death is the one that could shake Claire's world to its foundation.
How can so much be happening so fast, unless someone is choreographing this lethal nightmare? In this exciting conclusion to the Claire McCall series, nothing may be as it seems. Not the present. And not the past.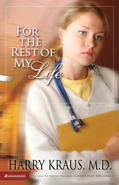 For the Rest of My Life- Claire McCall Series Book 2

Buy this book at: Amazon.com / BarnesandNoble.com / IndieBound.org /
Christianbook.com / Your Local Bookstore
Claire McCall, M.D., is haunted by the question: Does she have the gene for Huntington's Disease, the disease that disabled her father? This exciting sequel picks up with Claire moving back to Stoney Creek to work as a family physician and help her mother care for her disabled father. She rekindles her relationship with John Cerelli and—just before she's going to find out if she carries the HD gene—discovers an engagement ring hidden in his car. When John fails to "pop the question" before learning the results of the test, Claire believes he is only interested in marrying her if she does not have the HD gene. She runs away from him without learning the results of the test, or the strength of his love.
Claire copes with her romantic disappointment by plunging into her work. But a brutal rapist attacks three of Claire's patients, just as each young woman is recovering from a recent accident or surgery. When Claire has surgery for appendicitis, she herself is attacked. Only her trust in God can keep Claire safe.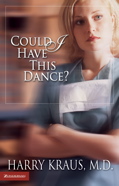 Could I Have This Dance?- Claire McCall Series Book 1

Buy this book at: Amazon.com / BarnesandNoble.com / IndieBound.org /

Christianbook.com / Your Local Bookstore
Claire McCall is used to fighting back against the odds. Hard work, aptitude, and sheer determination have helped her rise from adverse circumstances to an internship in one of the nation's most competitive surgical residencies. But talent and tenacity mean nothing in the face of the discovery that is about to rock her world.
It's called the "Stoney Creek Curse" by folks in the small mountain town where Claire grew up. Behind the superstition lies a reality that could destroy her career. But getting to the truth is far from easy in a community with secrets to hide. As a web of relationships becomes increasingly tangled, two things become apparent. One is that more than one person doesn't want Claire to probe too deeply into the "Stoney Creek Curse." The other is that someone has reasons other than the curse for wanting Claire out of the picture permanently.
Somewhere in the course of pursuing her career as a surgeon, Claire lost touch with the God who called her to it. Now she realizes how desperately she needs him. But can she reclain a faith strong enough to see her through this deadly dance of circumstances?